Dr. Frank N Furter is a character from the British rock musical The Rocky Horror Picture Show. The 1975 film adaptation was well received and Tim Curry was praised by critics for his portrayal of the sexually ambiguous transvestite from Transsexual, Transylvania. Thanks to Tim Curry, Dr. Frank N Furter became such an iconic figure in pop culture history. The self-proclaimed "sweet transvestite" became the coolest, most kickass, most badass transvestite ever. He easily became one of the movie villains people came to love because of his sharp tongue and sassy attitude.

Frank claims he has discovered the "secret to life itself". And proof of this is a creation which he has brought to life. He named him Rocky Horror. He adores his creation and intends to marry him. But what could you not love about Rocky Horror? Other than the fact that Frank may have not given much thought to his creation's brains, he is like an Adonis who has come to life. It must be especially painful for Frank to see his creation in skimpy gold shorts, that leaves nothing to the imagination of any hotblooded women, and in this case, a hotblooded "sweet transvestite" from Transsexual, Transylvania.

The moment Frank appeared on the screen leather-clad and with heavy make-up on like a fierce dominatrix, it is very obvious that he is a transvestite. But things got really confusing when his unexpected visitors, Brad and Janet are shown to separate bedrooms. Both of whom, Frank visited and seduced by posing as Brad and Janet in order to get the real Brad and Janet into having sex with him. Frank having sex with Brad is quite understandable given the amout of sexual admiration he gives Rocky Horror. But just when everyone thought they know Frank perfectly, Frank went on to have sex with a woman. And he had to seduce her, too!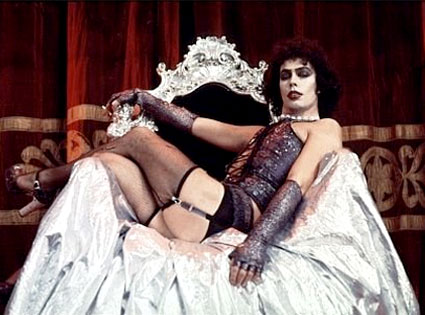 So does that make our feisty villain, a bisexual transvestite? A man who loves both men and women, who also happens to love being in drag. Or a pansexual perhaps? Maybe he can do it with anyone or anything for that matter. But whatever Dr. Frank N Furter may be, he has given a psychedelic new color to transvestites out there. He may be someone bisexual men can look up to. Now I wonder if they feature transvestites in

bi men porn. He wears leather, make up and all. He bangs both girls and boys. He is definitely a bisexual transvestite with personality. He sure is one of a kind. Not all transvestites can send people shivering in antici.......pation.

Don't take Dr. Frank N Furter for a wuss, remember when he sang, "Don't get strung out by the way I look. Don't judge a book by its cover. I'm not much of a man by the light of day, but by night I'm one hell of a lover!"